What Are The Different PPC Types & Which Is Best For You?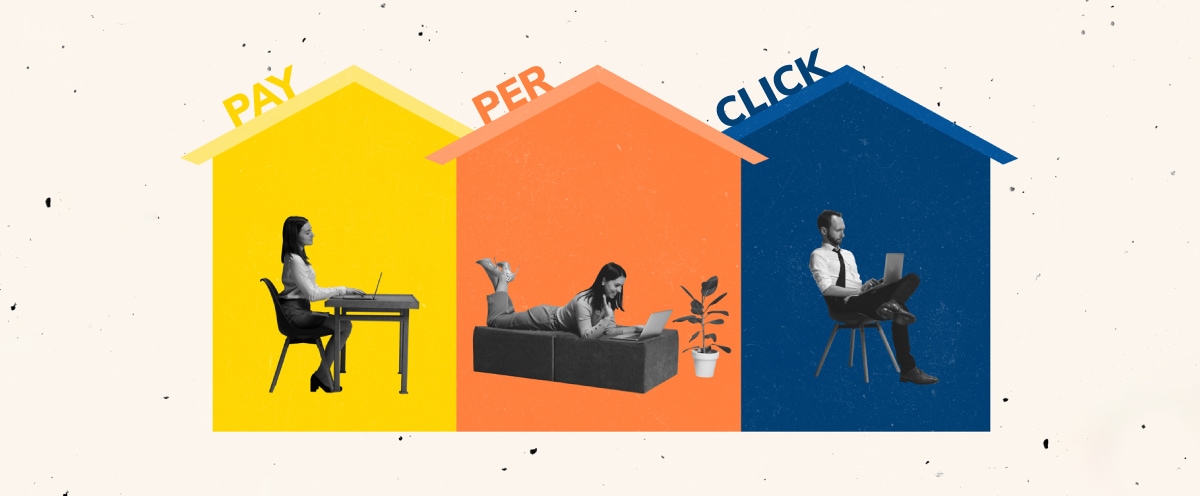 PPC advertising isn't just paid search campaigns, and it isn't a one-size-fits-all marketing strategy. This blog takes a deeper dive into display, retargeting, shopping, and video advertising and how they can benefit your business.
There's more to PPC than paid search advertising. Paid search ads are the most widely-used type of Pay-per-click advertising. However, there are many other types of PPC campaigns that have the power to drive quality leads, create a seamless buyer experience, and deliver significant ROI for your PPC efforts. In this blog, we'll highlight four of our favorite non-search types of PPC: display, retargeting, shopping, and video advertising.
Display ads are banner, image, or text ads that appear on different websites and like search ads, link to your website when clicked. Here are some examples from one of our favorite clients, Skydive Midwest.

Display advertising is similar to paid search advertising as the advertiser pays per click. However, one of the main differences is in the delivery to your potential customers. In paid search ads, your ad appears in front of users actively searching for your product and service. In display advertising, you can select the precise demographics you want to target with your ads, and the display network (such as Google) serves ads to users who match that demographic.
So, what is it that makes display advertising a force to be reckoned with? First, the power of visual content. Nothing grabs your customers' attention better than imagery. In fact, research shows that posts with images produce 180% more engagement. [Source: Venngage) Display ads allow you to attractively showcase your product or service, while cutting through the clutter in a way text alone cannot.
Second, the reach of that targeted message. The Google display network is gigantic —featuring over 2 million websites, with display campaigns reaching over 90% of all global internet users. (Source: Google Ads). That's an impressive number of eyeballs viewing your display ad.
Third, while display ads tend to have a lower conversion rate than paid search ads, they also typically have a lower cost per click price than paid search ads — allowing you to "buy" more brand awareness for your buck.
Retargeting (AKA remarketing) serves ads to people who have already visited your website but left your website before purchasing (AKA bounced traffic). According to HubSpot, only 2% of web traffic converts to a buying customer on their first visit. So, retargeting advertising is an effective tool to win back the attention of that coveted 98% of bounced traffic.

How does retargeting work? With cookies —those tiny pieces of data that remember visitors to your website. Every time a visitor comes to your site, it creates a cookie chock-full of data. This data ensures that your ad is served to that "still on the fence" bounced traffic, enhancing your brand exposure, re-engaging an interested buyer, and providing an easy opportunity to purchase. That's the power of retargeting.
Shopping ads showcase detailed product information and images in a comparison shopping format. If a person searches for a product you sell, Google will show shopping ads that are most relevant to that product. The ad, when clicked, will go directly to the product's website for purchase.
The popularity of shopping ads is undeniable and growing at a record pace. But, the biggest bang for your buck as an advertiser on Google Shopping? Unmatched visibility. Shopping ads are the one way to ensure your product ranks on top of Google Search results. Why? Because shopping ads get the star treatment, securing the premium spot in search results. Paid search ads appear further down the page, and organic search results appear near the bottom. Add to that top spot placement and an eye-catching, visual format, and ca-ching, your product's shopping ad attracts a whole lot of clicks.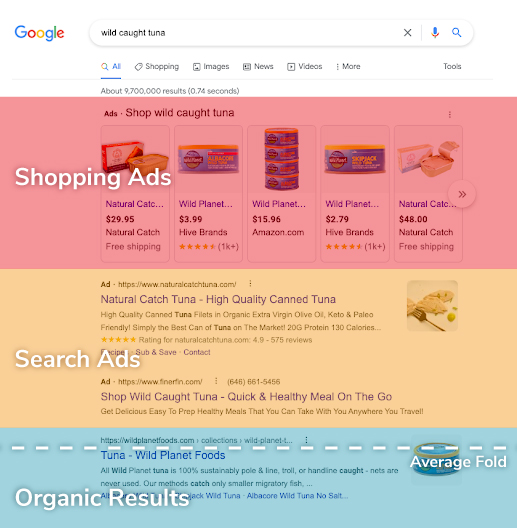 Video ads allow you to deliver compelling, memorable content to your target audience over incredibly popular video channels, such as YouTube. Like display ads, video ads can target audiences based on demographic information, interests, websites visited, etc. And video ads reach your target audience when they're already engaged watching a video. Plus, let's not forget the power of visual content and viewer retention. Viewers retain 85% of a message when they watch it in video compared to 10% when reading text.
Video ads also offer a great deal of flexibility in formatting. Some of the most common placements include pre-roll (before a video) or in-stream (during a video). Other format options include skippable ads (allowing the viewer to skip the ad after 5 seconds) or non-skippable ads.
Need more reasons to include video ads in your marketing mix? Check out these recent findings from Wyzowl.
The average amount of online video watched has almost doubled since 2018.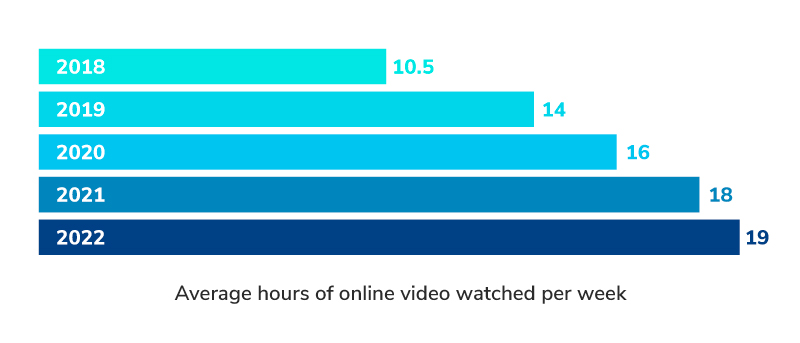 Of marketers say video has helped ROI.
Of marketers say video has helped increase traffic.
Of marketers say video has helped them generate leads.
So, There Really Is More To PPC Than Paid Search
As we've said before, we've only just begun when it comes to understanding Pay-Per-Click. We'll continue to dig in on all things PPC. In the meantime, if you want to continue the discussion on what type (or types) of PPC are smart for your business, we're here to talk.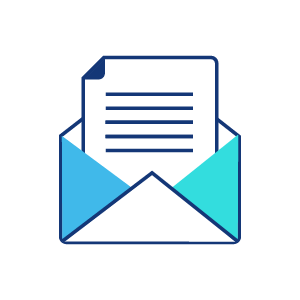 Lori lives by the mantra, "It's not what you say; it's how you say it." As Director of Content and Client Strategy, Lori is the wordsmithing wind beneath many of our clients' wings. Known for capturing our clients' brand voices with compelling clarity and consistency, she also is a frequent Tuna blog contributor. When not perusing a thesaurus, Lori can be found adding more zing to her arrabbiata sauce or searching for an easier way to pill a cat.